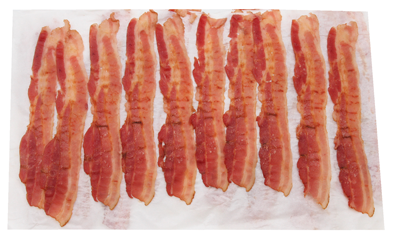 Product Code: 40500
UPC:
GTIN:00079618405002
Full bacon slabs with ends and pieces removed.
Smoked with real hardwoods for a natural smoke flavor.
Old-fashioned sugar cure creates mildly sweet flavor.
Ready-to-serve bacon cooked to a yield of 32% to 35%.
Available in several slice thicknesses.
Available in single slices on parchment paper or buffet style (slices shingled on parchment).
Brand
Brand: Daily's
Category: Bacon
Subcategory: Precooked Bacon
Group: Precooked Slab
Slice Style: Ready To Serve
Cure: Sugar
Smoke: Hardwood
Slice Style: Single slice
Product specs
Case Length (in): 14.0000
Case Net Weight (lb): 3.5
Case Gross Weight (lb): 4.26
Bags/Case: 2
Slice Count: Regular
Product off: United States (US)
Catch/Random Weight: Yes
storage
Shelf Life (Days): 180
Package and Storage Information: Keep Refrigerated
ingredients
CURED WITH WATER, SALT, SUGAR, SMOKE FLAVORING, SODIUM PHOSPHATE, SODIUMERYTHORBATE, FLAVORING, SODIUM NITRITE
nutrition